Posts Tagged 'breakcore'
friday november 5th 2010
wrecked-distro.com presents
BROKEN NOTE
AdNoiseam Records / South London UK
smashing dark dubstep, d&b and breakcore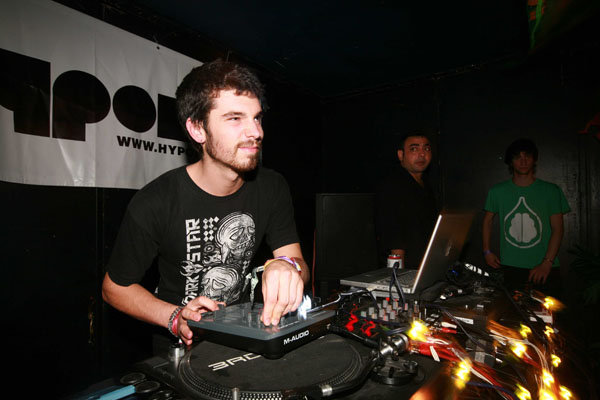 plus
DEADLINES
fromthegut / detroit
dark techno, dubstep, hard broken beat
and locals
BIT MUMMY
live 8-bit influenced hardcore dance
ROBBIE ROCKSO
1337 drum and bass, halftime and dubstep
at Belvederes 4016 Butler Street, Pittsburgh PA
here's a recent mix full of mostly originals…
'Equinox' Mix featuring tons of Broken Note unreleased material.
http://hauntedshit.com/music/mixes/Broken Note – Equinox Mix.mp3
Tracklisting:
Pan Volf – Poison [Broken Note Redit]
Broken Note – Flood
Broken Note – Crux
Broken Note – War In The Making
Broken Note – Let Em Hang
Broken Note – Zealot
DMinds – t-10 [Chasing Shadows Remix]
Broken Note – Zound
Broken Note Vs Machine Code – Knuckle Dust
Broken Note – Bad Acid
Broken Note – Meltdown
Dj Hidden & Cooh – Sleepwalkers
Broken Note – Channel Zero
BROKEN NOTE BIO
Raised on a diet of pure filth, Broken Note have dragged their own unique sound kicking and screaming into the electronic music scene. Combining lean, considered production skills with an appreciation of diverse rough beats, Broken Note have quickly established themselves as a sonic force to be reckoned with.
Broken Note have quickly racked up several critically-acclaimed releases over the past two years on such established and well-praised labels as Ad Noiseam, Ruff (Peace Off's slow and nasty sister), Damage, Prspct & Sustained. Fall 2009 saw the release the retrospective Terminal Static on Ad Noiseam, with remixes by notable producers such as Hecq and I Am The Sun (Enduser and Casey Beagle). They are regularly featured in DJ sets and radio shows worldwide, counting tastemakers like Mary-Anne Hobbes and Rob Booth as supporters and fans. Along with a busy production schedule, Broken Note were featured prominently at festival gigs throughout 2009, with a headline sets on the Overkill stage at world-leading Glade Electronic Music Festival, Maschinenfest Industrial Festival, and various tours throughout Europe, North America, Scandinavia & Japan.
Their slower-tempo sound can loosely be described as Dubstep, but has little in common with much of the scene's output. Instead they draw from the Sino-Rastafarian sound and heavy bass, combined with more of the kind of dark and aggressive beats that can be found in Breakcore and Jungle. Their Drum'n'Bass output is similarly disturbingly brutal, with undulating beats and bass that are unashamed to draw from the darker, edgier fringes of Gabber and Techno. Dancefloors worldwide have been set alight by the astonishing heaviness, inducing hallucinations of a dark and tech-saturated future.
Broken Note's live sets use Ableton Live at the core alongside various midi controllers and FX sculpted by on-the-fly warping, cueing and live key work, intermingling many of their own tunes with edits of music created by the artists they draw inspiration from. Expect a mash-up of everything from dark Dubstep and Hardtekno, to the most evil D'n'B and Hardcore for a sonic experience that's diverse and engaging.
You best believe Broken Note is that dark spreading tide set to further corrupt ears around the world. Get ready for it.
www.myspace.com/brokennoteuk
Subscribe to the comments for this post
it ended up making sense to combine these shows, so in addition to the normal shenanigans that happen at lazercrunk, we've combined with rhinoplex to present a special, early live breakcore/hard electronics show, all for one low door price! – cutups
thursday nov 5th
LAZERCRUNK
totally LRAD edition
with special guest
B.RICH / PartyLikeUs
wobble-house and grimey electro
plus sets from residents
CUTUPS & KEEB$ / Stackin Paper
radical remix squad
but before all that, starting at 8PM(-til 11ish)
RHINOPLEX.ORG presents live electronics from
REALICIDE / Realicide Youth Recordings – LosAngeles
sociopolitical gabber punk
SPLIT HORIZON / Void & FromTheGut – Detroit
broken acid core
MIND TIGER / Pgh
experimental freak-beats
at the Brillobox 4104 Penn Ave. Bloomfield
21+ / 8PM – 2AM / $5 cover all night
more info at http://stackinpaper.com
more info
LazerCrunk is a club night that takes place the first thursday
of every month at the Brillobox, in Pittsburgh, PA.
The idea of the night is to mix up fun, cutting edge post-genre dance music: electro crunk, new rave, street bass, indie dance, b-more bashment, robot rock, toxic dancehall, soul refixes, party mashup sounds, etc.
Subscribe to the comments for this post